Groups Flock to Las Vegas
With Las Vegas dubbed the Entertainment Capital of the World, it's no wonder that our research at TripHub shows more groups planning trips to Las Vegas than any other destination.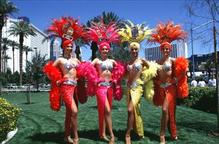 Surprised? Don't be. Las Vegas has long been popular for bachelor parties, bachelorette parties, weekend gambling getaways (and gawking) for guys, easy-bake wedding ceremonies or full-blown weddings, and a launch pad for visiting the Grand Canyon, Hoover Dam and other area attractions. And when conventioneers converge there, attendees often extend their stay and invite family or friends to join them.
Vegas continues to evolve, offering world-class shows (think Cirque du Soleil's Mystere, O, Zumanity, plus a bevy of Broadway, magic, and variety shows that thrill 'til dawn), concerts by renowned music artists, and more high-rolling resort casinos than anywhere else on Earth.
Even the anti-glitz travelers (ahem, like myself) who prefer tamer, more au naturale vacations, often admit that Las Vegas is good for entertaining and best enjoyed with a group of friends when you can double dare them to keep betting on the roulette table or give them a dollar bill to tip the dancer (that would be for the guys). The sweeping view from the top of Mandalay Bay is worth seeing, the Bellagio waterworks display dazzling, a massage at any of the luxury hotel spas relaxing, and other activities can fill your every waking moment. Sleep when you return home.
Planning a trip to Las Vegas with family or friends? Here are ideas to get you started:
Plan a weekend getaway with friends, bachelor(ette) party, family vacation, or wedding using TripHub by setting up a home page for your group, inviting guests, discussing hotels, sharing itinerary information, and more
Book a hotel on the Las Vegas Strip
Soar above Las Vegas on a helicopter night flight
Hover over the Grand Canyon by air, helicopter, or tour via bus
Tour Hoover Dam, engineering masterpiece
Catch Las Vegas shows from Splash to Blue Man Group
Photos provided by Las Vegas News Bureau