San Diego: City for All Seasons
Families fit into San Diego's cheerful profile like feet into flip-flops. This coastal city's perennial sunshine, sandy beaches, and kid-friendly attractions make it easy for adults to trade workday stress for an endless-summer attitude — even in December.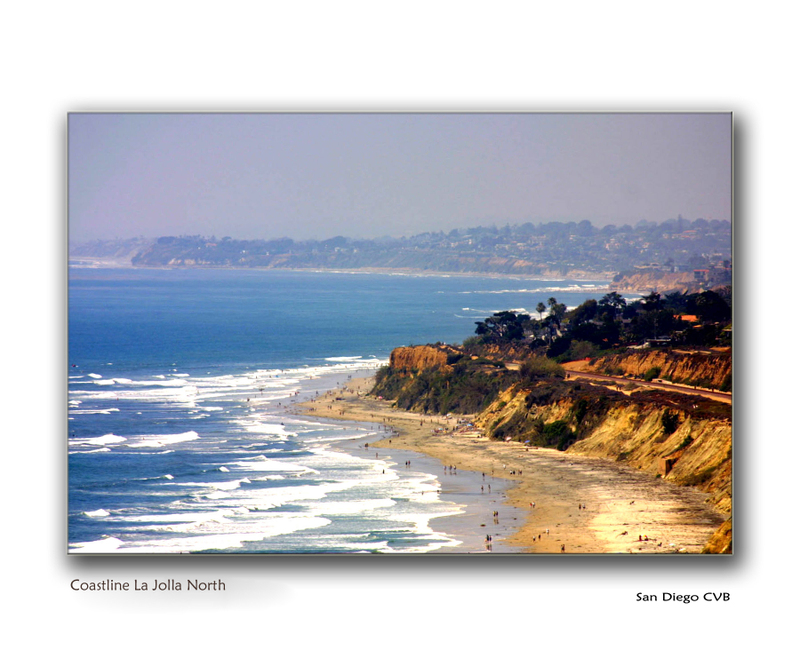 The agreeable climate engenders a laid-back, welcoming aura that pervades from mountain town to beachside community. And this is truly a year-round destination: Visit in fall and winter to get a healthy dose of vitamin D on beaches offering plenty of elbow room. Come in spring for the spectacular wildflower show in the Anza-Borrego Desert. Early summer sees the city caressed by a cool marine breeze before heating up for events such as the San Diego County Fair, the World Championship Over-The-Line beach softball tournament, and the US Open Sandcastle Competition.
America's Finest City is not just one long strip of beach, however. Mountains border the county's eastern reaches before dropping into a vast desert valley; in between lie scores of diverse neighborhoods that blanket the region's tawny hills. San Diego is a military municipality, a college town, a center of Mexican-American culture; wholesome and yet tolerant of its more counter-cultural facets. And it is a city on the cutting edge of urban renewal, having taken a shambling downtown and reincarnated it as a vibrant destination for entertainment, dining, shopping, and strolling. No visiting groups should miss the Victorian charm of the Gaslamp Quarter, Horton Plaza's colorful complex of shops and cinemas, and the revitalized areas surrounding the city's architecturally distinct convention center and PETCO Park, new home of the San Diego Padres.
Top Attractions Thanks to San Diego's temperate climate, animal lovers can get their share of critter-viewing and then some: at the San Diego Zoo, where a pair of panda cubs delight amid Tasmanian devils, sun bears, two-headed snakes, and a kingdom of creatures; the San Diego Wild Animal Park, 1,800 acres of African-style savannah with free-ranging lions, zebras, elephants, and other beasts; and SeaWorld, home of Shamu and his orca descendants, dolphins, penguins, and the seasonal Cirque de la Mer.
For a constructive take on theme parks, head to LEGOLAND, the original plastic-brick playland, with 15,000 LEGO models built from more than 30 million pieces. Or combine old-fashioned amusements with hot new rides at Belmont Park, right on Mission Beach. Ride the restored wooden Giant Dipper Roller Coaster, built in 1925, then hone surfing or skateboarding chops on the new FlowRider, a continual sheetwave that provides a steady supply of excitement for all ages.
Get immersed in the city's history, starting at Mission San Diego de Alcala, founded in 1769 and first of the California missions. At Old Town State Historic Park, original adobe buildings showcase furnishings, artifacts, and skills from San Diego's beginnings. The 1863 Star of India anchors the flotilla of historic ships that comprise the Maritime Museum of San Diego. Tour the decks and exhibits and try to catch a sailing aboard the tall ship Californian. Wrap up at Cabrillo National Monument, which commemorates the 1542 landing of explorer Juan Rodríguez Cabrillo and, incidentally, provides commanding views of San Diego Bay. Betrothed couples take note: All of these locations, including two of the historic ships, make for popular and unique wedding settings.
Outdoor Adventure
Naturally, with 300 days of sunshine a year comes a wealth of opportunities for outdoor adventure. The Mission Beach Boardwalk provides an ideal way to people-watch while zipping along on inline blades or bike. Pick up wheels from one of several rental shops, or rent a bodyboard and surf the friendly waves. Mission Bay's mellow inlets and coves make a family sailing on a rented sloop a breeze; groups can charter a boat for private cruising, diving, and sportfishing in the harbor and beyond.
Golfers wanting seaside vistas can tee up at the 18-hole Torrey Pines Golf Course, a junior-golf-friendly set of championship greens and fairways. Hikers, mountain bikers, and equestrians of all ages can tackle trails in the Cuyamaca and Laguna Mountains, where meadows and woods are rapidly recovering from the wildfires of 2003 (find stables and more in the nearby gold-rush town of Julian). Closer in, 40 miles of trails traverse the oak woodlands and open chaparral of Mission Trails Regional Park, including three paths that ascend 1,400-foot Cowles Mountain.
For a break from attraction overload, pack a picnic basket and head to the park. Balboa Park, San Diego's queen of green space, surrounds cultural attractions with 1,200 acres of woods, gardens, and sports fields. Mission Bay Park is an ideal setting for family reunions, with its 27 miles of meandering shoreline, sandy beaches, and grassy swards with picnic tables and firepits. Perched high above Pacific Beach, Kate O. Sessions Park offers views, ocean breezes, and sloping runs of grass perfect for kite flying.
Arts and Culture
Playtime isn't just for the playground. San Diego's renowned theaters offer up year-round theatrical diversions of award-winning caliber. The Old Globe Theatre brings Shakespeare out under the stars during the summer-long Shakespeare Festival, while other seasons see new works and revivals on the boards. Celebrated playwrights often premiere their latest at the La Jolla Playhouse, a 1993 Tony Award winner for America's Outstanding Regional Theatre residing on the UCSD campus.
Performing within the historic confines of the 1929 Copley Symphony Hall, the San Diego Symphony pleases classically minded parents as much as it does fun-loving kids, with its occasional Family Festival (with free pre-concert activities) and annual Summer Pops series, where families can spread a blanket on the lawns of Embarcadero Marina Park South and enjoy programs like classic cartoon tunes and Tchaikovsky's thunderous 1812 Overture.
Nurturing an appreciation of the arts and sciences is easy at Balboa Park, the urban cultural oasis that mingles museums with lush greenery and a nonstop sense of fun. Kids willingly accompany mom and dad to view the collections at the San Diego Museum of Art, knowing they'll also see the cool displays at the Aerospace Museum and Model Railroad Museum, plus virtual-reality exhibits and IMAX movies at the Reuben H. Fleet Science Center. Teens dig the WorldBeat Cultural Center's music-oriented exhibitions and drumming classes. The park also features a miniature railroad ride and a 1910 carousel, not to mention restaurants and dozens of other absorbing sights to see.
Activities Galore For Families
More San Diego Fun
Day Trips
Orange County theme parks: Two Disney and two Knott's Berry Farm amusement parks lie a two-hour or so drive north.
Catalina Island: An attractive town and miles of hiking trails on a protected island off Long Beach reached via high-speed boat.
Temecula wine country: So-Cal's hottest wine-growing city offers hot-air balloon and biplane rides above vine-covered hills.
Events Guide and Calendar
Buick Invitational Golf Tournament, San Diego's original golf tourney, played in January amid the seascapes at Torrey Pines Golf Course.
Accenture Match Play Championship, PGA championship golf arrives every February at the two par-72 courses of La Costa Resort and Spa.
Carlsbad Village Faire, one of the state's largest street fairs, held on the first Sunday in May and November, with art, food, pony rides, and performances.
Old Town Fiesta Cinco de Mayo, a lively celebration of Mexican-American culture with music, an equestrian show, and a Kids Village, first weekend in May.
Summer Pops Series with the San Diego Symphony, Memorial Day weekend to Labor Day weekend.
Shakespeare Festival at the Old Globe, June to October.
San Diego County Fair, top-name performers and thrill rides at the Del Mar Fairgrounds, mid-June through July 4.
Del Mar Racing, thoroughbred races where the surf meets the turf, mid-July through Labor Day.
OMBAC World Championship Over-The-Line Tournament, the city's unique beach softball tourney, on Fiesta Island, weekends in July.
US Open Sandcastle Competition, one of the country's largest sandcastle events, held at Imperial Beach over three days in July.
Street Scene, big-name bands performing on various stages across Qualcomm Stadium's parking lot on a July weekend.
San Diego Pride Two-day gay and lesbian celebration with a parade, music, dance, and beer gardens at Marston Point in Balboa Park, July.
San Diego Thunderboat Regatta, hydroplane races on Mission Bay, September.
Traditional Gathering and Pow-Wow, the Sycuan Band of the Kumeyaay Nation welcomes tribes from around the nation and visitors for dance, competition, games, and crafts, second weekend in September.
Cabrillo Festival, re-enactment of Cabrillo's landing, plus dance, music, and food, first Sunday in October.
Little Italy Festa, a weekend of food, bocce ball tournaments, and Italian crooners, second week in October.
Miramar Airshow, three days of aerial performances and aircraft displays, capped by the Blue Angels, mid-October.
For more listings, see The San Diego Event Guide.
Photos courtesy of the San Diego Convention & Visitors Bureau