Washington, D.C.: Capital Diversions
So many museums, memorials, houses of government, national landmarks, and historic places of interest fill the 67-square-mile area that comprises the nation's capital, a visitor soaking it all in should receive an honorary college degree.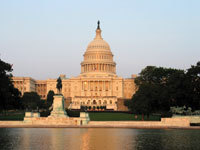 This is not dry educational overload, however. Many of the sights can be toured with knowledgeable and entertaining guides — and many offer reserved tours and special events for groups — and intriguing opportunities for witnessing the city in action can be had, such as watching the Senate in session or money being printed at the Bureau of Engraving and Printing.
At night, the suits come off and the atmosphere turns from all-business to a lively urban scene. The performing arts season lasts all year, from the National Symphony performances at the Kennedy Center for the Performing Arts to jazz combos at various hip nightclubs to theater, opera, ballet, comedy, rock concerts, and children's shows at venues all around the city. A number of the metro area's museums and historic sites offer their own events: cultural film series, early-music concerts, Shakespearean theater, author readings, and lectures that discuss the latest findings in their field. There's plenty of dance clubs to satisfy the party-people in the group, and the city has become a gourmet's destination for fine fare from celebrated chefs.
Yet amid all of this culture and Capitol conduct lies a surprising amount of open green space, where visitors can clear their history-saturated heads with an afternoon of bicycling along a historic towpath, riding horseback along paths once trodden by Civil War soldiers, or simply getting the group together for an easy hike in summer or heading to an ice-skating rink in the cold months. Not bad for a city that 200 years ago was nearly abandoned for being a mosquito-infested swamp.
Top Attractions
What's not a top attraction in the nation's capital? Yet with so many places of interest in close proximity to each other, it's easy to fill the must-see list with check marks. Start at the tree-lined National Mall, a two-mile-long grassy expanse flanked by the U.S. Capitol on one end and the Lincoln Memorial on the other. Guided group tours (reserve in advance) of the Capitol visit several floors and allow a peek into the galleries if the Senate or House is in session. Public tours are also offered at the Library of Congress and the Supreme Court (when not in session). Get some fresh air by strolling the U.S. Botanic Garden; groups can reserve a 45-minute guided tour of the 4,000-plant Conservatory.
The Mall's monuments, memorials, and museums guarantee hours — really, days — of enlightening exploration. A gauntlet of Smithsonian museums lead to West Potomac Park, crowned by the Washington Monument and its photogenic reflecting pool and also site of the Lincoln, Jefferson, and FDR memorials, and those honoring veterans of World War II, the Korea War, and the Vietnam War. Surrounding all that marble are the Constitution Gardens and the Tidal Basin's necklace of cherry trees, whose spring blossoms merit their own festival. North of the Washington Monument lies the White House, which groups of 10 or more can tour if they put in an advance request with their member of Congress.
Visiting this nucleus of historic sites and beyond can easily take up an entire vacation. One way to squeeze it all in is an Old Town Trolley Tour, accessed at any of the trolley's stops, including those on the Mall as well as the National Zoo, the National Cathedral, and the two-centuries-old houses of Georgetown. The Tourmobile follows a similar hop-on, hop-off route that also includes Arlington Cemetery, where visitors pay homage to the Tomb of the Unknowns, the Kennedy gravesites, and the Space Shuttle Challenger Memorial. There's no need to rent a car for self-guided explorations — public transport is comprehensive and easy to navigate, even off the tourist routes to places such as the 18th-century Octagon House and the Woodrow Wilson House and presidential museum (both offering group tours).
Outdoor Adventure
With more than 300 parks in this cultural hub, urban green space is easy to find. National Mall visitors can take a breather in East Potomac Park, where diversions include golf courses, a public pool, and biking paths along the river. Anacostia Park in northeast D.C. has a golf course and driving range, an aquatic center, tennis courts, and the Kenilworth Aquatic Gardens. Visitors craving wild nature should head out to Rock Creek Park, a 12-mile vale that deserves a day's exploration in itself, or at least a few hours to relax in the ample play and picnic areas, golf, hike or ride horseback on wooded trails, or bike or skate paved pathways. Combine exercise with edification with stops at the 1765 Old Stone House and the remains of the 1861 Fort DeRussy, both within park boundaries.
Perhaps D.C.'s best example of historic value meeting outdoor fun is the Chesapeake Ohio Canal National Historical Park, which follows the 185-mile-long canal — from 1824 to 1928, the main route for transporting coal to the city — from D.C. into Maryland. The towpath is a popular ride for bicyclists; hiking trails lead into deciduous forests where woodland creatures may be spotted. The gentle canal waters offer a view of the park from a kayak, canoe, or mule-drawn canal boat tour (summer only). In winter, birdwatchers are often rewarded with sightings of pileated woodpeckers, yellow-bellied sapsuckers, and hooded mergansers.
Sports fans in the group can cheer on the Washington Nationals baseball team at RFK Stadium; in fall, the Washington Redskins provide spectator thrills at FedEx Field. Come winter and early spring, park hiking and biking trails become cross-country ski and snowshoe trails, and outdoor ice-skating venues can be found throughout the city.
Arts and Culture
Few cities offer so much by way of the arts: The Smithsonian museums alone warrant many hours of perusal amid African textiles (National Museum of African Art), Southwestern pottery and basketry (National Museum of the American Indian), dinosaur skeletons (National Museum of Natural History), moon and Mars roving vehicles (National Air and Space Museum), Christo and Muñoz installations (Hirschhorn Museum and Sculpture Garden), and much more. All Smithsonian museums are free and most offer highlights tours. (Note that some museums may be closed for renovations; check the Smithsonian website for updates.)
Outside the Smithsonian's aegis lie many other collections sure to intrigue, with the International Spy Museum a top priority for kids and fans of James Bond movies. At the U.S. Holocaust Memorial Museum, exhibitions provoke meaningful conversations (reserved group visits receive a personal orientation). Architecture buffs won't want to miss the National Building Museum's vast collection of plans, drawings, and photographs; an array of artworks spanning six centuries awaits art lovers at the National Museum of Women in the Arts. Many museums offer regular events, such as the lecture and film series at the Mary McLeod Bethune Council House National Historic Site, and the Folger Shakespeare Library, which hosts readings, plays, and early-music concerts.
Visual art gives way to that of the performing variety at some of the nation's most venerated venues. One is even a national park: the Wolf Trap National Park for the Performing Arts, where performances ranging from National Symphony Orchestra Pops concerts to Irish music festivals, sketch comedy to kids' theater take place in the airy Filene Center in summer, then move into the cozy Barns at Wolf Trap come fall. The same eclectic variety can be had at the John F. Kennedy Center for the Performing Arts, whose September Prelude Festival kicks off nearly a year of performing arts (check on discounts and special events for groups of 20 or more). The Carter Barron Amphitheatre in Rock Creek Park and the Frank Gehry-designed Merriweather Post Pavilion are both outdoor concert venues primed for good times in natural settings.
Attractions Great for Groups
Day Trips
Washington, D.C. Events Guide and Calendar
St. Patrick's Day Parade Pipe bands, floats, Irish dancers, police and firefighter contingents march down historic Constitution Avenue, Sunday closest to St. Patrick's Day.
National Cherry Blossom Festival Two weeks of art exhibitions, Japanese cultural performances, and fireworks, culminating in a parade and a Japanese street festival. Late March-early April.
Smithsonian Kite Festival Handmade kite competition, kite battles, and a "hot tricks showdown" over the National Mall, last Sunday in March or first in April (weather permitting).
Washington International Film Festival Twelve-day film fest screening more than 100 international features, documentaries, and shorts at cinemas throughout the city, April.
Capital Pride Events at the nation's fourth-largest gay/lesbian celebration include a parade, street festival, and the Mr. Capital Pride Leather Contest, nine days in early June.
DC Caribbean Carnival Watch bands of masqueraders parade in outrageously colorful costumes to the music of steel bands, plus food, crafts, and more, late June.
National Capital Barbecue Battle Pennsylvania Avenue hosts a weekend of beef and pork mania as teams compete for $25,000 and the National Pork BBQ Champion title, late June.
Smithsonian Folklife Festival Celebration of global living traditions with performers, crafters, food, and hands-on kids' activities on the National Mall, late June to July 4.
Independence Day Celebration The nationally televised one, with a noon parade, the National Symphony Orchestra, and a 30-minute fireworks display, July 4.
Legg Mason Tennis Classic A U.S. Open series tournament, with crowds packing the William H.G. Fitzgerald Tennis Center to see top-seeded players on the hard court, early August.
Kennedy Center Prelude Festival A month-long series of symphony, comedy, and theatrics celebrating the start of the center's performing arts season, September.
Adams Morgan Day Community festival with artwork, vendors, a kids' fair, dance troupes, and two music stages, second Sunday in September.
Black Family Reunion Celebration Gospel and R&B concerts and an international marketplace highlight this celebration of the African American family on the National Mall, in mid-September.
National Book Festival More than 80 authors read from their works at this one-day fest in late September.
National Christmas Tree Lighting Long-honored lighting of the capital tree, followed by three weeks of nightly concerts at the Ellipse, December.
Photos courtesy of the Washington, D.C. Convention and Tourism Corporation