Wedding Planning Guide
Oh, the joy. A bride. A groom. A ceremony filled with romance, happiness, heart-warming vows, and wedding guests blinking back tears or counting the minutes 'til they can drink heartily and dance the night away.
Whether you're planning a destination wedding or a hometown ceremony, here are helpful tips for engaged couples, the wedding party, families, and wedding guests.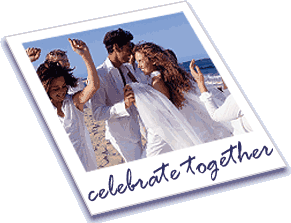 Group reservations
Get the inside scoop on how to book group reservations for hotels and flights, including what to look for and what to beware of and common group discount myths.
How to delegate with panache
Delegating is an art. You want as wide a canvas as possible for a wedding. Share responsibilities and only take on what you need to do yourself. These tips for delegating apply to family reunions also, but you'll see the parallels to wedding planning (aren't weddings another form of reunions?).
Why plan a destination wedding?
Benefits of destination weddings can often far outweigh the costs (or misperceived costs). Find out why the popularity of saying "I do" abroad or outside of your hometown is on the rise.
Top destination wedding hotspots
What are the best locations to get married? If your neighborhood church is booked on your chosen date, consider any destination wedding hotspots such as Las Vegas or Hawaii. They cater to weddings and offer idyllic settings for honeymoons.
Licenses and rules for destination weddings
Will your marriage abroad be valid? Learn about licenses and rules for destination weddings so you are as prepared as possible for the big day.
Bachelor and bachelorette party inspirations
He proposed. Finally! Now the planning can begin – for the best man and maid of honor that is. Here are tried-and-true tips for successful (and classy) bachelor parties and bachelorette parties.
More Wedding Planning Tips
Movies to prepare you for the big ceremony (or at least renew your sense of humor)