Find Your Happy Place
My San Juan boat trip reminded me how many happy memories are accumulated by taking the time to play. Each year Americans let oodles of vacation time lapse or expire. What a waste! When stressed in your post-vacation daily grind (which is practically inevitable), we all need happy places to go mentally and remind ourselves that life was exquisite once, it'll be exquisite again. Vacations provide happy places. And after two weeks cruising around islands, my memory is full of smiles.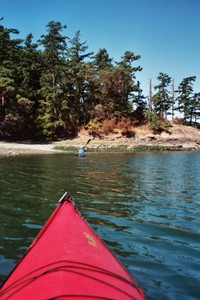 Happy place #1: From my kayak, I skimmed shallow bays, investigated reefs, met face to face with cliff embankments and dared the sea to roll me.
Happy place #2: From our wooden boat, I could sunbathe wherever I wanted and made a nice nest inside the cabin.
Happy place #3: From the top of an island, I peered out like an explorer and let the wind blow my hair into tangles as I soaked in the silent serenity of rock meeting saltwater.
Happy place #4: From the shoreline, walking barefoot in 60-degree water, I contemplated rocks and driftwood. Where did they all originate?
Happy place #5: In the company of friends and family, we shared food, caught up, played guitar occasionally, but mostly just enjoyed being with each other.
Where's your happy place?