Orlando: Florida's Magical Mecca
For families, reunions, weddings, group getaways, and more, Orlando rolls out its magical red carpet for every guest. Castles, fireworks, movie sets, water parks, shows, roller coasters, world-class theme parks and rides, golf, and romantic activities all await Orlando's visitors. As one of the most popular worldwide travel destinations, this sunny city delivers fun on a silver platter, but not necessarily out of budget. There are several affordable ways to enjoy the attractions and activities that make Orlando a year-round playground.
Top Attractions
Theme parks enchant every kid and the kid in everyone.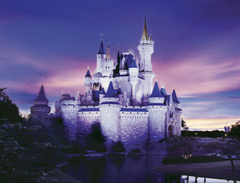 Walt Disney World Resort
Step foot on this quandrant of theme parks and walk into fairytales and animal kingdoms, parades of Disney characters, and entertainment variety for every member of the group. Downtown Disney is where the nightlife happens with Cirque du Soleil, restaurants, dance clubs, and shopping. Weddings are organized at Disney hotels and parks through Disney's Fairytale Weddings and Honeymoons. The four theme parks are world-renowned for blurring lines between dreams and reality, tales and non-fiction, and making the movies, characters, and world of Disney come to life with whimsy, rides, and a bit of pixie dust.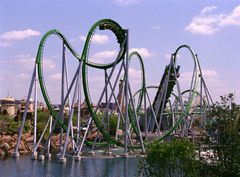 Universal Orlando
Stroll around Universal Studios and you're likely to see Blues Brothers Jake and Elwood cruising around the streets. There are plenty of rides, shows, and attractions to entertain for a day or more, including a boat ride with a Jaws encounter, Revenge of the Mummy - The Ride, and a new Shrek 4-D ride. Thrills galore. The Incredible Hulk roller coaster is also sure to bring goose bumps and keep your heart pumping, Seuss Landing brings the Dr. Seuss books to life with rides and shops, and Universal CityWalk, a 30-acre entertainment complex with live music, movies, nightlife, entertains romantic couples, groups of friends on a getaway vacation, and families.
Islands of Adventure take you on thrills and spills with the Hulk roller coaster, a Cat in the Hat ride with no straight lines in design (just like Dr. Seuss's books), a Jurassic Park river ride where you can splash about under the Florida sun, and an audience-participant Spider-Man 3-D ride.
Universal Studios Florida brings the movie sets to life in an entertaining, sometimes scary way, with a Jaws ride, an ET adventure, Revenge of the Mummy ride, an alien attack in Men in Black, Shrek 4-D, and audience-participating in a live Fear Factor show.
SeaWorld
This world-class marine theme park features a new Orca whale show with Shamu, and the park's first family-friendly roller coaster, Shamu Express. Sea-themed thrills vary from the tallest and only floorless roller coaster in Orlando, the Kraken, named after the mythical sea creature, to guest feedings of sea lions and dolphins. Like Disney and Universal, SeaWorld is a family-friendly park, but also entertaining for adults who like a big splash on their vacation.
Outdoor Adventure
Don't let the theme park prominence of Orlando fool you. While the parks celebrate themes we value in life: movies, nature, science, culture, culinary delights, participatory entertainment such as rides and shows, you can enjoy walking around the parks, taking rides that splash through water to cool off on hot, summer days, and swim in the pools that most major hotels have. For many, this is exercise and activity enough.
For group travelers who want to break free from the parks and explore the Orlando's landscape and beyond, there are 168 golf courses to play, hot air ballooning, and renowned beaches just a day trip away. You can go horseback riding at a ranch or rent a Harley-Davidson hog and head out on the highways looking for adventure. Plus, there's a 19-mile biking, skating, and walking trail near Lake Apopka and a plethora of tennis courts around Orlando at at its many hotels and resorts. Play tennis morning, day, or at lighted courses at night.
Arts & Culture
The main draws to Orlando are the theme parks. But if you dig a little deeper, you'll find an array of shopping, restaurants, theater, and other things to do. For a little culture go to the Orlando Opera, the Shakespeare Festival at Loch Haven Park, the ballet (central Florida's only pro ballet), Millenia Fine Art for an impressive contemporary art display, or Cornell Fine Arts Museum with both European and American fine arts, sculptures, and decorative arts. You can also take the kids to Celebration, a unique town, listen to Bach by Orlando's orchestra, visit the outdoor Southern-style Harry P. Leu Gardens, take the family to see a Broadway show (they regularly play in Orlando), or head for Albin Polasek Museum and Sculpture Gardens which is on the National Register of Historic Places for its showcase of the Czech sculptor's art in his home, in a gallery, and outside in the Winter Park garden.
Activities Galore for Families
More Orlando Fun
Day Trips
Events Guide and Calendar
October - Universal's Halloween Horror Nights
October - SeaWorld's Halloween Spooktacular
October 2006 - April 2007 Orlando Magic rival NBA teams in home and away games
Check Orlando's year-round calendar for events, museum exhibits, and shows throughout each month and season
Photos provided by Orlando/Orange County Convention & Visitors Bureau, Inc.