How to Organize a Group Garden Tour
By guest blogger Jacquelin Carnegie
See Garden Tour Destinations as part two of this two-part series.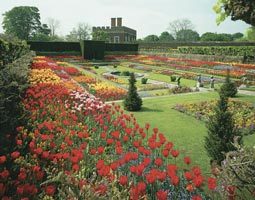 If you and your family and friends are garden enthusiasts—or just like to look at pretty fleurs—going on a garden tour is a wonderful experience. For garden experts in your group, it's a great way to get new planting ideas. And, for those who just like to gaze, visiting colorful gardens is a visual treat.
Go on a garden tour lead by horticulture experts or set your own itinerary. You can visit magnificent gardens close to home or as far away as your imagination (and budget) takes you! Schedule your trip to coincide with well-known flower festivals or just try to arrive when the gardens will be at peak bloom. The only rule of thumb (or green thumb) is to start researching and planning now. Don't wait until spring to arrange your trip.
 
How to begin researching a garden tour vacation:
Garden Clubs: Nearly every state in the union has a garden club. Many organize local home and garden tours each spring; some organize tours to other parts of the world. You'll find links to garden clubs nationwide on the National Garden Clubs' Web site.
Public and Botanical Gardens: Many gardens offer tours of their own lovely grounds as well as tours of other gardens. Here's a list (and links to) Botanical Gardens to visit in the United States.
Gardening Magazines and Web sites: You can pick up great ideas on gardens to visit by flipping through a gardening magazine or checking out a gardening Web site. See Horticulture or Garden Visit and the National Gardening Association's events calendar.
Garden Tour Companies: There are several excellent garden tour companies. Just looking over their itineraries will inspire you to pack your bags and get your group in gear. These companies arrange everything for you and can also create custom tours for your group: Coopersmith's; Jeff Sainsbury Tours; Brightwater Holidays.
Word of Mouth: If you have friends and neighbors who love gardening, perhaps they've gone on a garden tour and can offer some suggestions. If not, just look at these garden tour destinations for ideas.
Jacquelin Carnegie is a Contributing Travel Editor to Accent magazine. For the past 15 years, she has covered international travel destinations for both consumer and business publications.
Photo provided by Jeff Sainsbury Tours