Maui: Pacific Island Adventure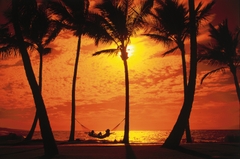 A playground for outdoor trekkers, golfers and beach loungers, the Hawaiian island of Maui attracts families, friends and romantics to her beaches, lush mountains, renowned golf courses and rugged volcanic crater. Discover with your group why Conde Nast Traveler dubbed Maui the best Pacific island for the 16th straight year and ranked Maui number two for all destinations in the world in 2006.
Activities Galore
Watch the sunrise atop 10,000-foot Haleakala Crater and bike down to the Pacific Ocean from its rim. Try fishing, whale watching, snorkeling, surfing or parasailing off the coast of Lahaina or go hiking in the West Maui Mountains. With Maui being home to authentic ranches and rodeos, you can also opt for a horseback riding tour from a ranch along trails that lead to the beach. Kids will enjoy the Maui Ocean Center, largest tropical reef aquarium in the world, where turtles, sharks and other marine creatures swim, play and eat. Golfers have their pick of world-class golf courses on Maui. And you won't get a true sense of the Aloha State without feasting at a luau or taking in a Polynesian show.
Land Adventures
Trek around Haleakala National Park, one of only a few of national parks in Hawaii. Near Haleakala tumble the Wailua Falls where hikers can stop and picnic near the oasis. Drive the road to Hana, a stunning road trip with winding paths carving around steep cliffs. Bring your camera and sense of adventure. The road to Hana cuts through lush mountains with unparalleled ocean vistas, but the curvy road is infamous for turning some passengers (and drivers) into white-knucklers. Maui is also home to authentic rodeos, ranches and cowboys, so saddle up at a ranch for a horseback riding tour through hills or along a beach. Maui Ocean Center, largest reef aquarium in the world, is a perfect way to entertain the water-logged kids. Visit Lahaina's art galleries, shops, boutiques and craft displays after eating at Lahaina's many restaurants.
Golfing
Maui is consistently ranked one of the best golf destinations in the world, plus host to professional tournaments. Kapalua and Wailea golf courses draw more skilled golfers, but all levels can enjoy the links at over 15 courses around the Valley Island. Nearby neighboring island of Lanai (easily accessible by boat) also offers two championship golf courses in private, tranquil luxury. Want more relaxing golf? Try golfing on jungle-dense Molokai, with two golf courses, one by the sea and another in the deep woods. No tee times or golf pros. Just ample time to perfect your swing.
Water Sports
Snorkeling. Surfing. Parasailing. Fishing. Whale watching. Scuba diving. Maui offers numerous ways to enjoy the Pacific. Take a surfing lesson or just hit the waves from Lahaina. Try windsurfing near Kahului. Numerous tours offer whale-watching and snorkeling adventures, often to nearby crescent-shaped Molokini island where you can snorkel around the reefs, then head to another area to snorkel with sea turtles and peer at colorful coral. Many tours also boat past schools of bottlenose dolphins and spinner dolphins to find them leaping and twisting as if playfully putting on a show.
Beaches
Maui boasts an array of beaches for every taste. Kaanapali Beach is a long white stretch of sand for beachcombers, snorkelers and swimmers. Other popular beaches include Big Beach in Makena, Black Rock near Kaanapali for renowned coral snorkeling, Black Sand Beach, Changs Beach, Hana Bay, Hamoa Beach, HA Baldwin Beach Park and many more rocky and sandy shores.
Best of the Web for Maui, Hawaii