6 Ways to Green Wedding Travel
By guest blogger Kate L. Harrison
An important piece of wedding planning is coordinating transportation and trying to anticipate the travel needs of your guests. These arrangements are often dependent on the season, timing, and location of your wedding. However, wherever and whenever you wedding is, there are many great eco-friendly transportation options to choose from.
First Stop: Let Go of The Limo
According to The Wedding Report, about 75% of couples travel to and from their wedding in a limousine, at an average cost of $674. Just think about how many tons of CO2 and how much money you can save if you choose an eco-friendly option instead! For example, imagine the attention and the fabulous photographs you and your fiancée would get if you traveled to your wedding on a trolley, bus, or subway. Don't have that far to go? Consider a more romantic option like a tandem bicycle for a farm wedding, an elegant horse and carriage ride for a wedding on a historic property, or a boat for a wedding at the water's edge.
If you still have your heart set on a limo, see if you can rent a hybrid limo, and always ask the driver to pick up the entire bridal party in one location. This will decrease driving time and save you money too!
It's Electric!
The hybrid, alternative fuel, and electric vehicle rental market is growing quickly and all of these options are significantly better for the environment than traditional limousines. Look online for car services and rental companies that offer electric, hybrid, biodiesel, or other eco-friendly vehicles in your area. When you find one, post a link on your wedding website to make sure your guests who are in need of rentals use them as well.
Keep It In One Place
One of the easiest ways to decrease the impact of your wedding is to have your ceremony and reception in the same location. The average wedding has 160 guests, so even if four guests pile into a car (which is unlikely; probably most cars only carry two guests), that's still forty vehicles driving from one location to the next, which adds up to a lot of carbon emissions. A single location eliminates the problem, and saves your guests the hassle and headache of getting from one place to another. If that location is close to public transportation, you guarantee that getting there will be a snap and will have minimal impact on the earth.
Provide Transportation for Everyone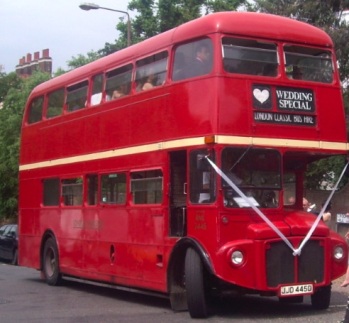 Image: Jessica Barnes
Have a lot of guests staying at a hotel, or all together in one place? Consider hiring a bus or van to move everyone en masse. If you provide snacks and drinks on board, a wedding bus can be a highlight for you and your guests. A trolley is a fun option too, and if you find a company that has electric trolleys, it's even better. This is also a good way to decrease car travel if you have your ceremony and reception in different locations.
Carpools
Carpools are a good way to decrease the total amount of pollution your wedding generates, and they give you, your friends and family the opportunity to enjoy each other's company. Cars produce the same amount of pollution whether they carry one passenger or five, so help your guests carpool by setting up a ride board on your website and encouraging guests who live in the same area to connect with each other ahead of time. A number of companies like Rideshare and Carpool World specialize in ridesharing, but you can even set up a blog and just have guests post their plans and contact information in the comment section.
Reduce What You Can, Then Offset Rest
Once you reduce the carbon footprint of your wedding as much as possible, you can use a carbon calculator to figure out the remaining impact an offset it. Carbon-offsetting can be especially useful for a wedding with a lot of guests traveling in by plane or car, or a destination wedding.
Remember that when it comes to the travel associated with your wedding, every choice makes a difference. Choose the options that work best for your celebration and your guests' needs, and you'll be off to a responsible, sustainable start to your news lives together.
Kate L. Harrison is the author of The Green Bride Guide: How to Plan an Earth-Friendly Wedding on Any Budget and Founder and CEO of The Green Bride Guide, a comprehensive resource with everything you need to plan a green wedding.