By guest blogger Blair deLaubenfels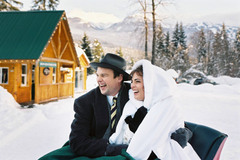 Does the idea of a winter wedding complete with sleigh rides, making tracks through fresh powder, hot toddies, and friends around a roaring fire make you feel warm and cozy inside, but the idea of planning for one leaves you cold? Then try these 5 tips for simplifying winter wedding planning.
1. Choose a resort that offers something for everyone. North America is full of fabulous places to ski and snowboard, but not all of your guests will be enthusiastic about heading to the slopes. Pick a location that offers a wide range of activities and choices for everybody. Resorts like Whistler, Breckenridge and Vail offer first class nightlife, dining and shopping, as well as plenty of other relaxing and entertaining options for guests of all ages.
2. Hire a local consultantEven if you're quite familiar with the area you've chosen, finding a highly recommended wedding planner who has lots of experience planning weddings at that destination is a must. Ask for references and check them. Once you've found someone you're comfortable working with, set a budget you can live with and supply the consultant with as much information about the preferences of the guests on your list as you can. Stay in close contact as changes arise.
3. Book early. Peak times at coveted ski resorts are often booked a year or more in advance, so be sure that you get your reservations all set 12 to 18 months before your wedding. Send out invitations as soon as you've made your arrangements so friends and family have plenty of time to schedule time off and travel.
4. Help your guests planHave your consultant provide a detailed itinerary to each person attending. Be sure that it includes a map of the area, transportation arrangements to and from accommodations and events, an hourly time-line for your wedding day and the days leading up to it, as well as contact information for your consultant and local emergency numbers. In addition, guests who aren't familiar with ski resort living will appreciate a packing list with all the items necessary for them to keep warm and safe.
5. Consider taking your photographer with you. Seattle wedding consultant Dianne Greene, of Distinctive Weddings and Events, recommends that you hire a photographer who lives near you so that you can meet and see their work before your wedding. When your photos and album are ready you'll be able to pick them up in person, insuring that you get what you paid for.
Blair deLaubenfels is Senior Editor for Junebug Weddings.
Photo supplied by Whistler photographer David Buzzard